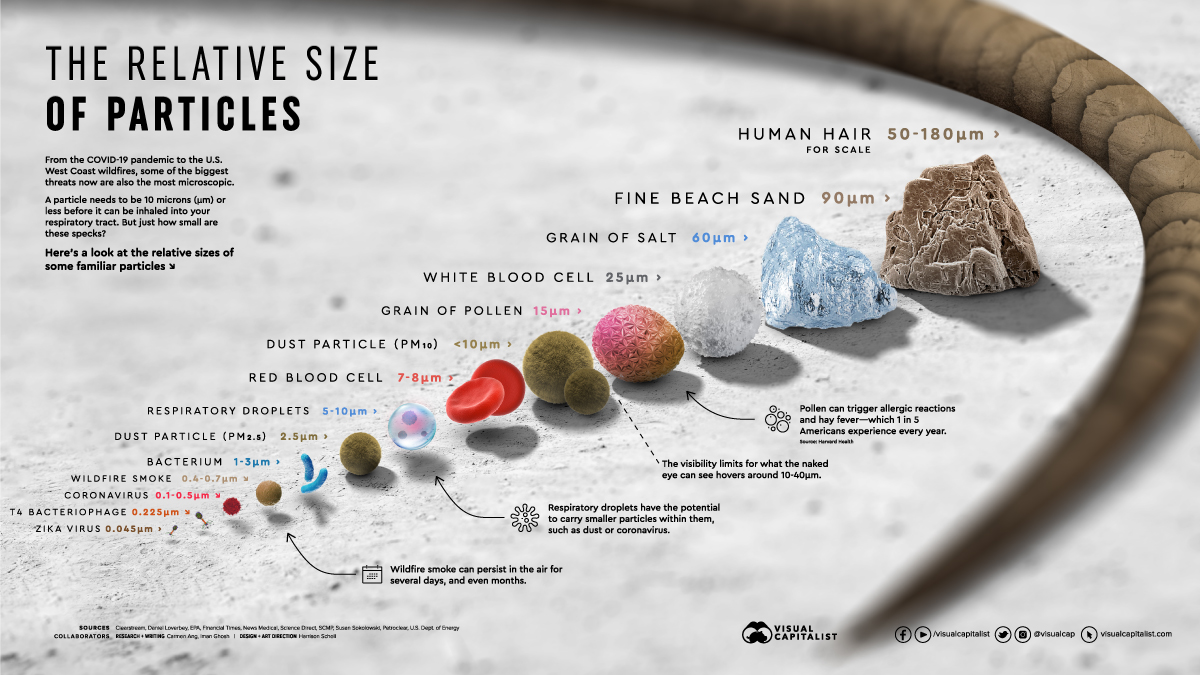 Zooming In: Visualizing the Relative Size of Particles
Lately, the world's biggest threats have been microscopic in size.
From the global COVID-19 pandemic to wildfires ripping through the U.S. West Coast, it seems as though our lungs can't catch a break, or more aptly, a breath.
But just how small are the particles we're currently battling? And how does their size compare to other tiny molecules?
---
First published: October 10, 2020 (link)
Source files included: .ai, .eps, .pdf
Data source: Clearstream, Daniel Loverbey, EPA, Financial Times, News Medical, Science Direct, SCMP, Susan Sokolowski, Petroclear, U.S. Deptartment of Energy

A basic license enables you to re-publish the infographic with minor changes (such as reformatting it size and shape, or updating information) while still attributing it to Visual Capitalist. Display of Visual Capitalist logo is required in a basic license. Translation is not permitted with a basic license.
An enhanced license enables you to re-publish the infographic, even with substantial changes being made to it. An enhanced license enables you to also translate the infographic into a different language. No attribution of the Visual Capitalist brand or logo is needed.
You may only translate an infographic by purchasing an Enhanced License.
| | |
| --- | --- |
| License type | Basic – 2 credits, Enhanced – 3 credits |